Instant tents take the hassle out of camping due to how easy they are to carry around and set up. However, with a few different types available, it can be tough picking one for yourself. In this article, we're going to help you make the right choice when it comes to instant tents, and cover all the basics that you need to know.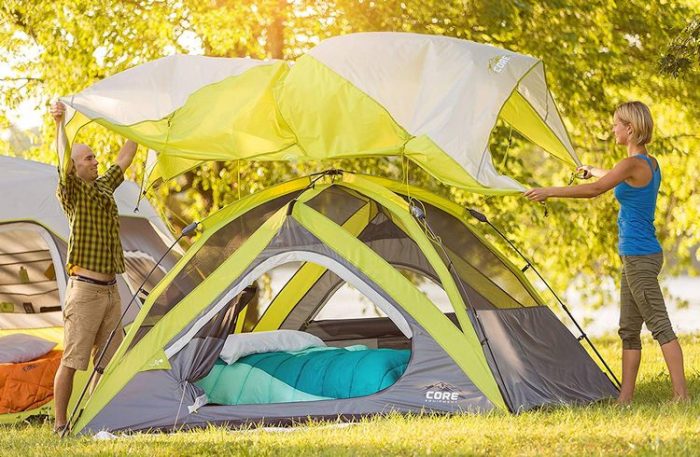 Instant Tents – What Are The Benefits?
Ease of Use
Instant tents are just what they sound like – they can be pitched in no time at all, thanks to the fact that there are poles already attached to the body. Hence, even first-timers can set up camp without anyone's aid or having to read through a manual.
Price
An instant tent for camping can vary in price from cheap to very expensive, depending on the brand and the size. As a result, you can find several that fit your budget.
Time-Saving
Imagine there's a storm approaching and you need to set up a shelter as soon as possible. With regular tents, there's a high probability of you getting soaked before you're done pitching them. If you've got an instant tent, on the other hand, you'll be done in less than a minute!
Freestanding
This means that you're able to pitch an instant tent on any terrain without needing to stake it down. As a result, you can always adjust the position if necessary. However, when winds are particularly strong, it may be a good idea to go ahead and pin the tent down with stakes.
What Size Is Right For You?
Instant tents come in both large and small sizes. If you go camping with friends or family, then it might be better to go with the former. However, that isn't the only reason to go for a larger tent. If you've got claustrophobia, for instance, the extra space can help you feel more comfortable.
The only drawbacks with larger tents are that they tend to be pricier and can be harder to carry around.
Which Type Of Instant Tent Should You Pick?
There are two main types of instant tents to choose from – cabin and dome. Let's take a look at each:
Cabin Tents
These come in either square or rectangular shapes (hence the name) and are usually able to house anywhere from 6 to 12 people. In addition, cabin tents usually have tall ceilings, allowing people to walk around without having to hunch. In addition, the roof is made out of mesh materials, which means that you can stargaze at night.
Typically, cabin tents come fixed with strong poles that can stand their own against the roughest winds. On the flip side, cabin tents do come with a couple of downsides. First of all, they're quite heavy to carry around. Secondly, they can't be repaired easily if something breaks. Due to the size, it may be difficult for just one person to pitch a cabin tent without help.
Dome Tents
These are much smaller than cabin tents, meaning that you can't walk around in them comfortably. However, there are quite a few pros to having these type of tents. For starters, they can be set up in a minute or so, while cabin tents take longer. Plus they're lighter as well, while still being able to withstand rough winds. Furthermore, they just require one person to set up.
At the same time, there are a couple of negatives, like being unable to take them apart to make it easier to carry. In addition, you have to keep it fixed in the ground while it dries.
Instant Tents With Screened Porches
You'll come across instant tents that contain screened porches. These are ideal for summer and spring camping because you can let in some sunlight without having to open up any flaps. Hence, you don't need to worry about bugs getting inside the tent.
Are Fast Pitch And Instant Tents The Same?
Even though the names sound similar, fastpitch tents are not the same as instant tents. In fact, there are quite a few differences between the two. The biggest is that the fastpitch is faster to set up. This is due to the fact that the poles are pre-assembled inside the body, unlike instant tents. In addition, most fastpitch tent models come equipped with a hub as well.
In Summary
Instant tents can make campers' lives much easier, considering all that they offer. To begin with, they're very quick and easy to set up – so much so that even amateurs can make do without any instructions. In addition, they are freestanding and come in a variety of price ranges and sizes. 
The two types – cabin and dome are suited for different scenarios. The former is more suited for larger groups while the latter is perfect for the single camper.